Suddenly, there is barely a meal that isn't eaten in the garden, or a cup of coffee that didn't find its way to the kitchen steps. Sometimes this has been planned, but we do it with impromptu fridge-raid suppers, too: a dish of chicken liver pâté eaten in the shade with a pile of toasted sourdough or a crumbled feta and an orange-fleshed melon. This time the pâté was of pork belly, spice-rubbed and roasted, shredded and lightly pressed under a crust of snow-white fat.
Later, we made a salmon version, uncooked, served on a tangle of pea shoots and tasting of the essence of summer, the fish lightly crushed and flecked with crisp, hot summer radishes and finely diced shallots.
The success of any pâté or terrine is as much about texture as flavour. I prefer a soft, open texture, more like traditional pork rillettes than a dense pâté you can slice oh so neatly with a knife. My heart seeks the sort of soft terrine that falls loosely on the plate, something to scoop up and spread on hot toast.
We shredded the roasted pork belly with a couple of forks, tearing the meat rather than pulling it off with our fingers to keep it light and open, then spiked it with shredded gherkins and tiny capers, to introduce bursts of piquancy. I do think some acidity is necessary with anything like this – green olives perhaps, or some Japanese pickles. The salmon version, made with two different textures of smoked salmon, had to be eaten in a couple of days, but was still a blessing to find in the fridge on a summer's day.
I offer little more than a glass of wine and a bowl of salad with this: something crisp. such as shredded celeriac and slim-as-your-finger spring carrots, tossed with tarragon vinegar and whole celery leaves. Oh, and of course something to scoop the pâté up with – hot toast, rustling folds of carta da musica or whole ribs of celery served from a jug of iced water.
Pork terrine with gherkins and capers
More rillettes than pâté, this will keep for several days, refrigerated, under a layer of fat. Use what is in the roasting tin, and if there isn't enough to completely cover the surface of the meat, melt a few tbsp of duck or goose fat or butter and use that.
Serves 10
For the spice mix:
sea salt flakes 1.5 tbsp
juniper berries 15
black peppercorns 2 tsp
cloves 4
pork belly 1.5kg, skinned and boned weight
goose, duck or pork fat 8 tbsp
gherkins or cornichons 100g
capers 2 tbsp
Set the oven at 200C/gas mark 6. Put the sea salt in a mortar or spice grinder with the juniper berries, black peppercorns and cloves and grind to a coarse powder.
Lay the pork, skin down, in a roasting tin, then score deeply with a large, very sharp knife, each cut about 2cm apart. Rub the spice mix into the flesh, pushing it down deep into the meat.
Melt the fat and pour over the meat, cover with a lid or a piece of foil, then roast for 30 minutes. Lower the heat to 160C/gas mark 3 then continue to roast for 2 hours.
Cut the gherkins or cornichons into matchsticks. Put them in a large mixing bowl, then add the capers.
The pork is ready when it can easily be pulled apart. Using a couple of forks, pull the pork into thick, juicy shreds then roughly chop and return to the tin. Fold the fat from the tin, the pork and the gherkins and capers together then transfer to a china dish or terrine and allow to cool. Refrigerate overnight before serving, with hot toast.
To preserve the terrine for more than a day or two: melt the fat, skim off any froth and pour the liquid fat over the surface, completely covering the meat. Refrigerate until needed.
Double salmon pâté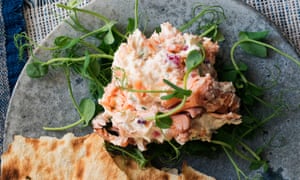 The texture of this pâté is far more interesting for the use of two types of salmon: the silky, finely sliced traditional smoked salmon and the coarse pieces of hot smoked salmon that are kept on the large side. The contrast between the two textures is the reason why I would make this over a smoked salmon terrine that had been processed to a smooth consistency in a food processor.
Serves 6-8
smoked salmon 200g
hot-smoked salmon 400g
crème fraîche 400g
breakfast radishes 6
shallot 1, medium sized
lemon 1
pea shoots 2 handfuls
crispbread to serve
Finely chop the smoked salmon and put it into a mixing bowl. Break the hot-smoked salmon into large flakes and add to the salmon. Put the crème fraîche in with the salmon, but do not mix it just yet.
Chop the radishes very finely. Peel the shallot, dice very finely, then add, together with the radishes to the salmon. Season with a little ground black pepper and a squeeze or two of lemon juice. Fold the salmon, shallot and radishes together very gently, without crushing the large salmon flakes. Transfer to a terrine or china dish, press down gently with the back of a spoon and cover with cling-film. Refrigerate for a couple of hours. Serve with crispbread and something green and fresh, such as pea shoots or watercress.
This will keep in good condition for a day or two, but no longer. Keep covered and refrigerated.
Email Nigel at nigel.slater@observer.co.uk or follow him on Twitter @NigelSlater