Pulitzer Prize-winning novelist Junot Diaz withdrew from a writers' festival in Australia this weekend after fellow writers came forward with accusations of sexual misconduct and misogyny, organizers said.
Diaz was apparently confronted by writer Zinzi Clemmons during a panel at the Sydney Writers Festival on Friday. She stood up in front of the crowd and asked Diaz about his autobiographical essay recently published in The New Yorker, in which he publicly revealed for the first time that he was raped as an 8-year-old boy. She then asked why he had behaved toward her the way he had six years ago.
Clemmons, author of the coming-of-age novel "What We Lose," took to Twitter just hours later to elaborate on her accusation. She tweeted that she was a "wide-eyed" 26-year-old graduate student when she invited Diaz to speak at a workshop, and he "used it as an opportunity to corner and forcibly kiss me."
"I'm far from the only one he's done this [to], I refuse to be silent anymore," Clemmons tweeted. "This happened and I have receipts."
ABC News was unable to reach Clemmons for further comment Saturday.
As a grad student, I invited Junot Diaz to speak to a workshop on issues of representation in literature. I was an unknown wide-eyed 26 yo, and he used it as an opportunity to corner and forcibly kiss me. I'm far from the only one he's done this 2, I refuse to be silent anymore.

— zinziclemmons (@zinziclemmons) May 4, 2018
A slew of fellow writers responded to Clemmons' tweets, disclosing that they too have experienced inappropriate and sometimes aggressive behavior from Diaz.
Short-story author Carmen Maria Machado detailed in a series of tweets how Diaz, while on tour for his book "This is How You Lose Her," suddenly became "enraged" when she asked him during a question-and-answer session about "his protagonist's unhealthy, pathological relationship with women."
"He asked me to back up my claim with evidence. I cited several passages from the book in front of me. He raised his voice, paced, implied I was a prude who didn't know how to read or draw reasonable conclusions from text," Machado tweeted.
Machado said the "blast of misogynist rage and public humiliation" lasted for about 20 minutes.
"But what really struck me was how quickly his veneer of progressivism and geniality fell away; how easily he slid into bullying and misogyny when the endless waves of praise and adoration ceased for a second," she tweeted.
During his tour for THIS IS HOW YOU LOSE HER, Junot Díaz did a Q&A at the grad program I'd just graduated from. When I made the mistake of asking him a question about his protagonist's unhealthy, pathological relationship with women, he went off for me for twenty minutes. //t.co/7wuQOarBIJ

— Carmen Maria Machado (@carmenmmachado) May 4, 2018
Writer Monica Byrne tweeted that she was 32 when she sat next to Diaz at a dinner and that he "shouted" in her face when she disagreed with him during conversation.
"It was completely bizarre, disproportionate, and violent," Byrne tweeted.
I was 32 and my first novel hadn't come out yet. I was invited to a dinner and sat next to him. I disagreed with him on a minor point. He shouted the word "rape" in my face to prove his. It was completely bizarre, disproportionate, and violent. //t.co/WQr0hLW8Z5

— Monica Byrne (@monicabyrne13) May 4, 2018
Another writer, Bina Shah, asked Clemmons whether she thinks Diaz was "trying to pre-empt this from coming out" with his recent essay in The New Yorker about how his past as a victim of sexual abuse left him traumatized and has impacted his relationships with women. Clemmons responded, "Yes. And so do many of my colleagues."
The New Yorker did not immediately respond to ABC News' request for comment Saturday.
Author Alisa Valdes subsequently published a blog post explaining why she "wasn't surprised" to see the onslaught of accusations against Diaz across social media.
"I publicly said Diaz was a misogynist opportunistic liar more than 10 years ago, after he mistreated me, and I was severely punished for it –- by Diaz, and by the publishing and Latino communities," Valdes wrote. "Thank you, Zinzi, Carmen, Monica, for giving me the courage to know it wasn't just me. Or me at all. It was him."
Diaz nor his literary agent, Nicole Aragi, have responded to ABC News' requests for comment. Media relations staff at the Massachusetts Institute of Technology, where Diaz teaches writing, also did not immediately respond to emails asking for comment Saturday.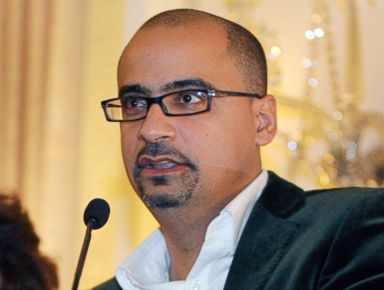 In a statement provided through Aragi to The New York Times, Diaz said he takes responsibility for his past conduct, though he didn't address any specific allegations.
"I take responsibility for my past," Diaz said in the statement. "That is the reason I made the decision to tell the truth of my rape and its damaging aftermath. This conversation is important and must continue. I am listening to and learning from women's stories in this essential and overdue cultural movement. We must continue to teach all men about consent and boundaries."
The Sydney Writers' Festival announced in a statement Saturday that Diaz, who won the 2008 Pulitzer Prize for "The Brief Wondrous Life of Oscar Wao," had backed out of his remaining scheduled appearances at the event. The festival said its organizers remain committed to providing a "supportive and safe environment for our authors and audiences alike."
"Following the allegations of inappropriate and aggressive behaviour towards Zinzi Clemmons and other women, Mr Diaz has withdrawn from his remaining sessions at Sydney Writers' Festival," it said in the statement. "In his recent New Yorker essay, Mr Díaz wrote, 'Eventually the past finds you.' As for so many in positions of power, the moment to reckon with the consequences of past behavior has arrived."
The Associated Press contributed to this report.